Once again we're getting an uneven number of good games in certain timeslots and none in the other. That being said though we do have some great games this week and one possible game that could decide the fate of a coach. We'll also see if a team is for real and whether another can comeback from a crushing defeat. Interesting week of college football.
Thursday, October 10th
Rutgers at Louisville, 7:30 (ESPN: Rece Davis, Jesse Palmer, David Pollack, Sam Ponder
) Rutgers won a wild game last week in
Dallas
. Louisville just keeps chugging along as this year's Boise team meaning their weak conference will hurt them at the end of the year when they go undefeated. The Cards will need to thrash Rutgers, who is probably the 2nd best team in that conference, if they want to be taken seriously as title contenders.
Arizona at USC, 10:00 (Fox Sports 1: Justin Kutcher, Petro Papadakis, Joel Klatt, Kristina Pink
) USC's first game without Kiffykins and I honestly don't know what to expect. I know I'll miss Kiffykins weird facial expressions during games.
Saturday, October 12th
Oklahoma vs Texas, Noon (ABC: Brent Musburger, Todd Blackledge, Heather Cox
) Is this the end for Mack Brown at Texas? Is this the last game for him? Could be depending on how this game goes. Oklahoma is admittedly a bizarre team to read on offense. They either blow teams out or have to rely on their great defense. I wish I could say this will be a OU blowout but I can't. I will pour one out for Mack Brown though and curse his name for politicking Cal out of the 05 Rose Bowl.
Missouri at Georgia, Noon (ESPN: Dave Pasch, Brian Griese, Tom Luginbill
) Missouri is one of those teams that hasn't played anyone yet. Basically they're the Arizona of the SEC and just their luck they get to face a Georgia team that has been devastated by injuries. This is one of those games though I have to go with the home team and Georgia is the home team.
South Carolina at Arkansas, Noon (SEC Network: Dave Neal, Andre Ward, Cara Capuano
) Been an interesting week for Jadeveon Clowney. He didn't play last week so now he's being questioned if he even loves football, is he selfish, and
hit pieces
like this questioning him as a top 10 pick. My take is like
I said at the beginning of the year
he wouldn't live up to the hype. There were too many expectations, too much hype for this season to be anything but a disappointment. Here's another take on this situation, it's hard for a defensive lineman to dominate every game. There have only been a few defensive lineman who could dominate every game and Clowney is too young to do that just yet. Just back off of him for now and wait until the season ends before judging his character and draft status.
Florida at LSU, 3:30 (CBS: Verne Lundquist, Gary Danielson, Tracy Wolfson
) Going back to Mack Brown for a moment I have to ask this question: why is Will Muschamp on Texas' list of potential coaches? I understand Muschamp coached at Texas and was at one time named Brown's successor. Still I have to ask, why is he being considered for that job now? Have you seen his Florida teams? They're hard to watch. Sure the defenses are great but the offense suck something awful and he's still hasn't won an SEC title or even a SEC East title. Muschamp gets my vote for the most overrated* coach in college football.
*I hate myself for going the Simmons overrated/underrated route but it had to be done there
.
Baylor at Kansas State, 3:30 (Fox: Craig Bolerjack, Joey Harrington, Ryan Nece
) Baylor's offense is a rolling death machine. They've scored 70 points in 3 games and came within 1 point of making it four games. They're being criticized for their lack of defense which is completely unfair because last week was the first time they've allowed more than 15 points in a game. Now watch old man Bill Snyder ruin everyone's fun this week by beating Baylor. And yes I know KState isn't very good this year but I still wouldn't put it past them beating Baylor.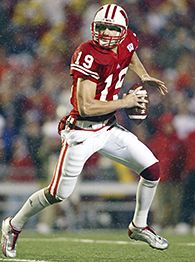 Northwestern at Wisconsin, 3:30 (ABC/ESPN2: Sean McDonough, Chris Spielman, Shannon Spake
) Northwestern's loss last week was one of those games I can barely watch. I get all excited for the underdog, they take a halftime lead, and then the better team just steamrolls them. You see this a lot in college football and it's hard to watch every time.
Oregon at Washington, 7:00 (Fox: Gus Johnson, Charles Davis, Kristina Pink
) Washington is still steaming from last week's loss to Stanford and accusing them of faking injuries. I'm sorry I just can't take Washington seriously against Oregon in this game even though it's being played in Seattle. Losses have to be moved on from quickly and Washington ain't letting go.
Texas A&M at Ole Miss, 8:00 (ESPN: Brad Nessler, Kirk Herbstreit, Holly Rowe
) I jinxed Ole Miss a couple of weeks ago. I though they could challenge Alabama and the Tide crushed them. Since then Ole Miss players heckled a production of the "Laramie Project" and were smoked by Auburn. Their defense looked horrible last week and I don't expect anything else different against Manziel.
Recipe of the Week, Brown Sugar Smokies
: Pretty simple appetizer for parties. You just need smoky weenies, brown sugar, bacon, and tooth picks. Great for tailgates or parties for football to go along with whatever your BBQing.
Alcoholic Beverage of the Week, Sam Adams Octoberfest
: I've come around on Sam Adams beers. While I don't enjoy their regular beers I really enjoy their seasonal beers like Octoberfest. This beer is a malt with a tasty toffee taste.