Where To Draw The Line?
:
Beyond the Boxscore
asks an interesting question that I'm sure every team has had to face, where do you draw the line when a player is all glove and no bat? Especially when that player plays at a power position like third base? BtB uses Matt Dominguez as an example. Dominguez is really good defensively for the Astros but he has the 2nd worst OBP in the majors. He can hit home runs but are 20 home runs and good defense worth it for him to play 150 games a year?
HAHAHAHA
: I won't pussyfoot around this topic, I don't like A's announcer Ray Fosse. He's smug and arrogant and he's the biggest stoker of the flames for A's fans hate of all things San Francisco Giants. He's the guy who says that when only 10,000 fans show up at the Coliseum they are "true A's fans". Gag me with a fucking spoon. Oh and he can't go a game without mentioning the early 70's A's dynasty. So I take great pleasure in the fact that he's whining in this clip when the umpires make the correct call and say that Chris Young did indeed hit a foul ball and hot a home run.
HBP vs BB:
Doug Fister is approaching a weird record. While Fister rarely walks anyone (26BB so far) he's damn near hit as many batters as he's walked (15 HBP). That's incredible just to think about. What
Beyond the Baseball
found is that Fister's sinker ball is great by staying in the strike zone, it's also leading to a lot of hitters being hit by the pitch.
All Hail Miguel Cabrera
:
Jonah Keri takes
a look at the incredible season Tigers third baseman Miguel Cabrera is having. The numbers will show that Cabrera is by far and away the best hitter in baseball but he's much better than that. As Keri talks about Cabrera hits the inside pitch as frequently and with power that normal players can only dream about. Check out Cabrera's heat map.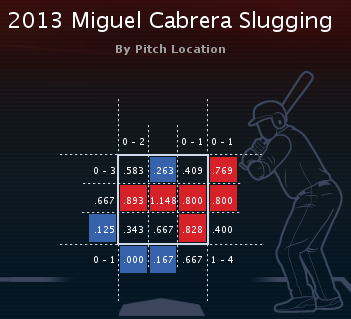 Nick Markakis' Stunted Power
: Baltimore's Nick Markakis entered the league as a power hitter but over time that power has declined.
Fangraphs
tries to figure out why Markakis' power has disappeared? Is it his stance? Is it age? Is it the fact that he's had his hammate bone removed from his hand taking away bat speed? Either way Markakis is basically just a slap hitter now.
Why The Cardinals Keep on Winning
:
Sports on Earth
has a long profile on the St. Louis Cardinals and why they keep on winning. The easy answer, they scout well and have a lot of minor league depth. The Cardinals to me are the prime example on how to keep winning in today's baseball where there are fewer free agents and more teams are signing their young players to contract extensions. You have to have minor league depth in today's baseball and the Cardinals have just that. So when they lose Chris Carpenter for the year, they can easily replace him with a Shelby Miller. And that's how they keep winning and winning.
Age And The Minor Leagues
: I'm the first one to tell you I don't trust minor league numbers. There are a lot of factors that go into minor league numbers including what type of ballpark the players are in. Another factor is a player's age.
Hardball Times
has an post on age and the minor leagues and why numbers can be deceptive because of age and what level the player is on.
The Improvement of Lincecum
: Early in this season Tim Lincecum looked like a player who would be out of the league in a few years if he kept playing the way he was playing. The past month though we're seeing the Lincecum that made so many Giants fans happy. Lincecum according to
Baseball Analytics
is making batters chase again and this has improved his strikeout and walk rates. One thing that Lincecum is doing differently is that he's throwing more curveballs than usual and this has lead to the increase in chase rates.
The Balk
: The great
Sam Miller of Baseball Prospectus
has a great post about the "black sheep of the baseball rulebook" the balk. What's funny about this post is that Miller has 9 different examples of the "balk" and almost all of the .gifs you see Bob Davidson making the call.
The Games of the Weekend
: A look at the games and pitching matchups of the weekend.
Friday, Kansas City at Detroit, Verlander vs Shields
: The Royals and Tigers are playing a rare 5-game series this weekend and the Tigers already took the first game. Big Game James Shields needs one of those big performances tonight to keep the Royals not only in the game against Verlander but for the Royals as a whole since they're still 8 games out of the division and 5 games out of the wild card.
Saturday, Seattle at Texas, Hernandez vs Perez
: I was listening to
this podcast with Jonah Keri
and he's right. It's easy to forget that Felix Hernandez is one of the best pitchers in the game. If you look at
King Felix's numbers
this season you'll see he's actually having his best season of his career so far. Call it the curse of Seattle. Play in the northwest and be forgotten.
Sunday, Kansas City at Detroit, Chen vs Scherzer
: Back to Detroit-Kansas City because it's the best series of the weekend. Bruce Chen is back in the Royals rotation and pitching better than ever. Max Scherzer will probably win the Cy Young this season because of WIN-LOSS RECORD! If the Royals don't win 3 out of these 5 games then they are done.