Thankfully this week's slate of games is stronger than last week's stinkers. There are a lot of undefeated teams this week that could see their first loss. In my opinion there are a lot of fraudulent undefeated teams this week that I think will see their first loss. Call this fraudulent week or whatever you want to call it but this is the week where I believe we'll see a lot of undefeated teams see their first loss. Here's this week's, must list.
Thursday, October 4th (All Times Eastern)
USC at Utah, 9:00 (ESPN: Rece Davis, Jesse Palmer, David Pollack, Samantha Steele
) The transition to the Pac-10 for Utah has been rocky to say the least. Utah has already lost to a good Arizona State team and will probably lose to a good USC team on Thursday night. It's still early in Utah's term as a Pac-10 team but right now I don't think Utah or the Pac-10 got what they bargained for when they joined forces.
Saturday, October 6th
Navy at Air Force, 11:30 (CBS: Spero Dedes, Steve Beuerlein, Otis Livingston
) I'm a sap when it comes to the service academies. I just am. I like watching their offenses even when the team is bad (like Navy this year). So I'll watch this game because I root for both schools and then turn the channel when the other games start.
Northwestern at Penn State, Noon (ESPN: Dave Pasch, Brian Griese, Jenn Brown
) Believe it or not but Northwestern is undefeated on the year so far. Yeah they've only played Syracuse and Indiana and teams of that ilk but this is Northwestern's year, I swear! Meanwhile Penn State is a surprising 3-2 on the year with one conference victory. I never thought heading into this year that this would be a must watch game and guess what, it still isn't but there aren't any other choices during this time slot.
LSU at Florida, 3:30 (CBS: Verne Lundquist, Gary Danielson, Tracy Wolfson
) Both teams are undefeated on the year and truthfully both teams leave me with a "meh" feeling. LSU has slightly improved at QB, but a road cone would have been an improvement over Jordan Jefferson. Meanwhile besides their game against Tennessee, Florida has also looked like they're on the verge of losing every game this week. Thankfully we'll see which of these teams are the true fraud this week.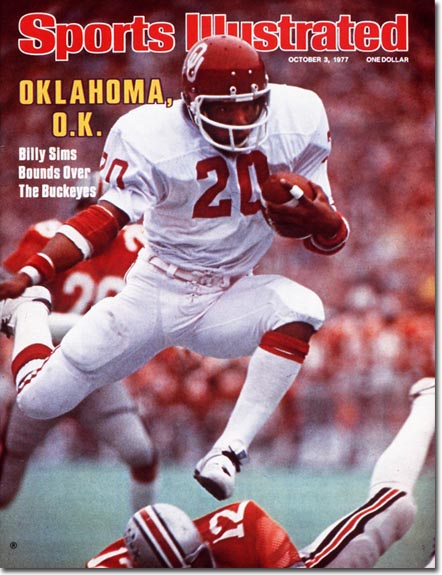 Oklahoma at Texas Tech, 3:30 (ABC or ESPN2: Sean McDonough, Chris Spielman, Quint Kessenich
) Texas Tech is also undefeated but once again hasn't played anyone. Oklahoma has a loss this year against a tough Kansas State team. I still like Oklahoma in this game despite where it's being played and the records. Texas Tech is another fraud like Florida.
West Virginia at Texas, 7:00 (Fox: Gus Johnson, Charles Davis, Julie Alexandria
) This is the true game of the week in my mind. West Virginia takes their first road trip against a Big 12 team against an undefeated Texas team. Will West Virginia explode offensively? Will Texas' defense keep this game close? If this does turn into a shootout, can Texas' offense keep up? Thankfully GuJo will be on the call.
Georgia at South Carolina, 7:00 (ESPN: Brent Musburger, Kirk Herbstreit, Heather Cox
) This is another game between two teams I frankly don't trust. I think either of these teams will be crushed in the SEC championship game against Alabama or LSU in early December. If I had to be on it though I would take South Carolina at home for this game.
Miami vs. Notre Dame, 7:30 (NBC: Tom Hammond, Mike Mayock, Alex Flanagan
) Miami's offense has proven the last couple of games that they can actually score now that Jacory Harris is throwing INT's in the backyard of a family reunion. Notre Dame's defense this year appears to be very good, but they've only played B1G teams so far. While I'm not confident Miami will win, I am confident their offense will put up more of a fight that a B1G team.
Washington at Oregon, 10:30 (ESPN: Joe Tessitore, Matt Millen, Lewis Johnson
) Honest answer, I haven't watched a single Oregon game this year but from what I've heard and read their offense is still really good. Washington in my opinion is another fraud that was lucky to play Stanford at home this season. Washington will get crushed in this game.
Alcoholic Beverage of the Week, Blue Moon Harvest Pumpkin Ale
: I'm a big fan of Blue Moon beers and their Harvest Pumpkin Ale is one of their best. It's not a strong ale and doesn't leave a bad after taste. In fact the after taste is wonderful tasting pumpkin which makes you think that you're drinking a pumpkin pie. It's truly a delicious beer.
Recipes of the Week, Baked Hawaiian Sandwiches
: I'm a big fan of baking. In my opinion food that is baked always tastes better. And sandwiches with Hawaiian bread baked is no exception. You can choose whatever type of meat you want or if you're not a fan of Hawaiian bread you can use a different type of bread to bake your sandwich. Either way baking is the best.