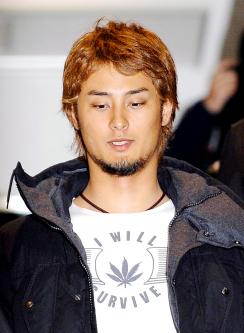 At the beginning of the year I made my
2012 MLB predictions
. Instead of doing a standard well this is who will win the NL Central and the AL MVP, I had a little fun with my predictions. Still like with all predictions I had some that were right and some that were wrong. Really wrong (Hello Washington making the playoffs). Let's see how good or bad I was.
"Yu Darvish's Hair Will Start a Trend"
- Well Yu's hair didn't start a trend sadly. Yu though, while not quite worth the money he signed for,
had a very solid year for the Rangers
. He ended the year with a 4.9 WAR and finished with an astounding average of 10 strikeouts per 9 innings which puts him third in the majors and ahead of Justin Verlander. Pretty good.
"Jamie Moyer Will Win 10 Games"
- Could not have been more wrong here. Moyer, like all Rockies pitchers this season, was terrible and gave up a moon shot to Giancarlo Stanton that broke a scoreboard in Miami. Colorado would release Moyer by June and he would go on to be released by both Baltimore and Toronto before disappearing forever helping Digger Phelps matching ties with highlighters. Moyer did win at least one game this year, tying the record for the oldest pitcher to win a major league game.
"Prince Fielder and Miguel Cabrera will combine for 90 home runs and 1,500 fat jokes"
- I was wrong by the 90 home runs* but if Fielder hit 10 more home runs I would have been correct. As for the fat jokes, they're just too easy.
*I'm writing this before the season actually ends but they still won't combine for 90 home runs unless Prince hits 10 home runs in 3 games.
"The aquarium behind home plate at the Marlins park will be gone in two years"
- I don't receive a positive or negative score here because I said two years the aquarium would be removed in two years. I still stand by this because either animals activist groups will complain or Jeffrey Loria will find a way to add more seats on the tax payer dollar to fund his lifestyle.
"Washington won't make the playoffs"
- I couldn't have been more wrong about this prediction. Not only did Washington make the playoffs, they were one of the first teams to clinch a playoff spot. That pitching staff has been incredible, Ryan Zimmerman stayed healthy, and Bryce Harper was almost as good as predicted. More on him later.
"Phillies fans will on their knees praying for a healthy Ryan Howard and Chase Utley in August"
- Well Howard and Utley were healthy by August and the Phillies played well, but it was too late. The Phillies had other problems besides an un-healthy Howard and Utley. Halladay was never quite Halladay, something called Freddy Galvis started games and then was suspended, and Kevin "Mirage" Fransden finally found a home. You know you have a average team when "The Mirage" is receiving run.
"The Mets and Orioles will be horrible again"
- Half of a point here. The Mets were once again depressing despite R.A. Dickey and David Wright's sneaky good season. The Orioles well..........they're celebrating a playoff spot right now in Tampa Bay. So yeah I couldn't have been more wrong about the Orioles.
"Joe Maddon will be called a genius over 100 times this year"
- The Sabermetrics writers love this guy like the mainstream NFL media love Bill Belichick. Seriously follow sabermetrics writers on Twitter or read Fangraphs/Baseball Prospectus and the love for Maddon is just as over the top as the love for someone like Belichick.
"The Anaheim Angels of California won't make the playoffs"
- The Angels could still clinch a playoff spot but they'll need major help from the Rangers who have to play Oakland in Oakland. Sorry but I don't think the Angels will be making the playoffs*. The Angels despite receiving a historic season from Mike Trout were inconsistent all year. C.J. Wilson didn't live up to his hype. Zach Greinke struggled in his first few starts since being traded to the Angels, Pujols struggled to start the year. Nothing was ever quite right for the Angels this year except Trout.
*I probably just jinxed the A's.
"The NL West will continue to suck"
- I was wrong with everything about this pick. I said the division winner would probably win 88 games. Wrong the Giants have a chance to win 95 games. I said the Dodgers and Padres would continue to stink. While both teams won't make the playoffs, they certainly didn't stink. I was right though when I said Arizona would regress and Colorado wouldn't be much because they're a two-man team. Other than that though I whiffed badly on this pick.
"Lew Wolff will sell the Oakland A's"
- The San Jose situation isn't near settled, but Wolff never did sell the A's this season or put them up for sale. I still think the real estate man Wolff will eventually sell the A's.
"My surprise team is the Toronto Blue Jays"
- Woof was I wrong here. The injury bug hit the Blue Jays and devastated this team. There's a hole in the ground where the bomb fell on the SkyDome. First all of the Blue Jays pitchers elbows exploded and then Jose Bautista got hurt and then Yunel Escobar broke out the homophobic eye black. Disastrous prediction for a disastrous team.
"Bryce Harper will make his debut sometime this season"
- This pick was a little too easy. From all indications Harper was ready for the big leagues despite his age and he was. Harper came up in May and hasn't looked back.
"The Yankees will tread that line between making the playoffs and collapse"
- The Yankees have clinched a playoff spot but it wasn't easy and this was after they had a 10 game lead in the AL East during this season. Credit to the Yankees for continuing to win despite injuries to Sabathia, Pettite, and ARod and players like Granderson struggling. They didn't collapse.
"The Red Sox will be a circus all year long"
- The Red Sox didn't even make it till their annual Patriots Day game before becoming a circus. At that point it was Bobby V. versus Kevin Youkilis and it was a circus all year long afterward in Boston. My favorite moment is Bobby V. telling a radio station that he expects to be back in Boston next year while the Boston GM is telling another radio station that he's looking for a new manager. Bobby V. should be the Red Sox manager for life.
"My final prediction: This will be an interesting year in baseball"
- With the extra wild card baseball certainly was interesting. You had multiple teams this year competing for a playoff spot and even the Pirates and Orioles were interesting this year. We had multiple no-hitters and perfect games again and the Dodgers spending money like they just hit the lottery. We had a collapse in the AL Central that no one is paying attention to. The A's rebuilt their team through trades and scrap heap pick ups and are now on the verge of the playoffs. This has been an interesting and fun year in baseball.