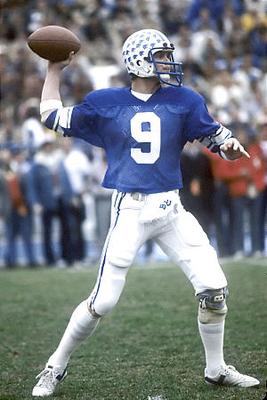 This week's slate of games is pretty good. We're finally into the time of the year where most teams are in conference play and most conference games are competitive and close. Hell even the Thursday and Friday games should be good which is a rarity. So enjoy this week's slate of games.
Thursday, September 20th
BYU at Boise State, 9:00 (ESPN: Rece Davis, Jesse Palmer, David Pollack, Samantha Steele
) Boise State has a lot of rebuilding to do this season and it has showed in a loss to Michigan State and a win against Miami (OH). BYU meanwhile has looked good so far, but did lose a heartbreaker to Utah. If this game was in Provo instead of Boise I would favor BYU in this game.
Friday, September 21st
Baylor at UL-Monroe, 8:00 (ESPN: Carter Blackburn, Rod Gilmore, Jemele Hill
) Who knew that three weeks in a row a UL-Monroe game would be a must watch? It is though thanks to their defeat of Arkansas and their comeback but loss in OT to Auburn last week. UL-Monroe though gets to play Baylor at this stadium. Should be a fun one.
Saturday, September 22nd
Virginia at TCU, Noon (ESPN: Dave Pasch, Brian Griese, Jenn Brown
) The one complaint about this week's slate of games is the weak morning games. When a terrible Virginia team playing against a TCU team that struggled against Kansas is one of the must watches, then yeah it's a weak morning slate.
UTEP at Wisconsin, Noon (ESPN2: Beth Mowins, Joey Galloway, Lewis Johnson
) UTEP has looked competitive against bigger schools, but they haven't won those games. Meanwhile Wisconsin is finding out that not all QB transfers from the ACC work out. Danny O'Brien has been a bust so far in Madison, but he'll get another start to turn things around this weekend.
Maryland at West Virginia, Noon (FX: Justin Kutcher, Eric Crouch, Darius Walker
) I only marked down this game for a couple of reasons. I like watching Holgo's offense and I want to see that offense destroy Maryland.
Missouri at South Carolina, 3:30 (CBS: Verne Lundquist, Gary Danielson, Tracy Wolfson
) Missouri's first game as a SEC team didn't go well against Georgia. Now they're traveling for the first time as a SEC team. Missouri though might be missing James Franklin and South Carolina will probably be missing Conner Shaw. A battle of backups!
Oregon State at UCLA, 3:30 (ABC or ESPN2: Sean McDonough, Chris Spielman, Quint Kessenich
) I think this is where UCLA comes back down to Earth. Oregon State seems to have improved and Mora Jr is due for a loss. I would have more confidence in Oregon State if this game was played in Oregon.
California at USC, 6:00 (Pac12N: Ted Robinson, Glenn Parker, Ryan Nece
) Cal looked good against Ohio State in Columbus but still lost. Now they have to travel to Los Angeles to play against a pissed off USC team. If the Trojans don't win by at least 30 points, I'll be shocked. Thankfully hardly anyone will be able to watch this game because it's on the Pac12 Network.
LSU at Auburn, 7:00 (ESPN: Brad Nessler, Todd Blackledge, Holly Rowe
) Auburn sucks so this is one of those games you might watch for a few minutes see how LSU looks then find another game to watch. That being said watch this game be closer than thought with Les pulling a trick play out of his ass for the win.
Kansas State at Oklahoma, 7:30 (Fox: Gus Johnson, Charles Davis, Julie Alexandria
) KState was hammered by Oklahoma last year despite looking pretty decent. I have no clue what that means for this season since KState once again looks pretty decent. This could be a close game or could be a blow out. I have no idea which way it will go.
Michigan at Notre Dame, 7:30 (NBC: Tom Hammond, Mike Mayock, Alex Flanagan
) I'm still wary of Notre Dame, but they did look good last week at Michigan State. Sparty though has a new QB and Michigan has a veteran QB. Let's see Notre Dame try to stop Robinson and if they do, then I'll say I'm impressed with Notre Dame.
Clemson at Florida State, 8:00 (ABC: Brent Musburger, Kirk Herbstreit, Heather Cox
) Talk about teams that either I'm not impressed with or wary of. Florida State has played nothing but tomato cans so far, including Wake Forest, while Clemson lone big win was against a bad Auburn team. I have more faith in Florida State for this game because it's in Florida. I still think either of these teams will lose at least one game before the end of the year.
Arizona at Oregon, 10:30 (ESPN: Joe Tessitore, Matt Millen, Shelley Smith
) This has become a sneaky intriguing game. Arizona has immediately improved under Rich Rod and Oregon is gonna Oregon. If this game wasn't played in Eugene I would give Arizona a better chance at the upset.
Alcoholic Beverage of the Week, Rumpkin
: It's that time of the year when beer company's release their pumpkin flavored beers. One of the best pumpkin ale's I've tasted in a while comes from the Avery Brewing Company called Rumpkin. This is one of those beers though you have to drink slowly because it's a thick amber.
Recipe of the Week, Grilled Cheeseburger Pizza
: Combining two things this fat guy loves. Pizza and cheeseburgers. The directions though for making this kind of meal looks like preparing this meal will take some time so you might have to prepare everything the day before cooking. Still I would at least try this meal.