70 Percent
: That's the percentage of people who can't watch the Los Angeles Dodgers on Time Warner in the Los Angeles area.
Jeff Passan
has the details of the story. The Dodgers signed a huge contract in the billiions and now their own fans can't watch them play because Time Warner and DirecTV are playing hardball with each other. And if you think this is a mess google "
Houston Astros" and "CSN Houston"
for more gory details about home team fans not being able to watch their team.
Miguel Olivo Gone Mike Tyson
:
Word came on Tuesday
that during a minor league game, veteran catcher Miguel Olivo bit off a piece of his teammate Alex Guerrero's ear.
Seriously he went full Mike Tyson
on the poor Cuban prospect.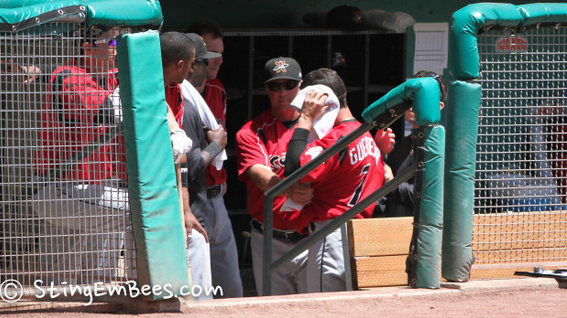 Will Stephen Drew Help the Red Sox?
: Stephen Drew finally signed a contract and it was with the Boston Red Sox.
Sweet Spot
asks will this help the Red Sox who are mediocre as it gets this season (it's their pitching that stinks)? And no he wont help. There are too many problems on the Red Sox right now like their outfielders not hitting, Dustin Pedroia with career lows in OBP and OPS, and some guys not hitting like they did last year like Mike Napoli.
Tony La Russa Hiring is Short Sighted?
: Getting back to
Jeff Passan
, he also writes this week that it's incredibly short sighted of the Arizona Diamondbacks to hire Tony La Russa as their chief baseball officer. Passan's article admittedly is very convoluted and he's all over the place but he believes La Russa is too much "my way or the highway" type of guy to sit back and watch Kevin Towers and Kirk Gibson run the baseball operations. After watching the Diamondbacks the past couple of years I have to ask, is that a bad thing?
This is Just Mean:
Corey Kluber of the Indians last night was trying to do a TV interview. I say trying because his teammates dumped sunflower seeds, powder, and water on him during the interview.
Jerks
.
Game Score
: Game Score is a remarkably easy stat that isn't promoted the way it should be. It was developed by Bill James and it reflects how well a pitcher did in a game. You start at 50 and you either add or subtract points depending on what happens during the game.
Beyond the Boxscore
looks at how well you can project a pitchers career based on their first 30 Game Scores. That's all fine and good until I found out that Matt Cain's perfect game was the best Game Score since 2000. MATT CAIN! MATT CAIN!
Game of the Year
: On Wednesday the Tigers-Indians played the game of the year ending with the Indians walkoff win in extra innings on a balk.
Sweet Spot
argues that game exposed a lot of flaws in the Tigers like little bullpen depth (a constant problem for them), little bench depth, and shortstop problems. How bad that division though is, it shouldn't be a problem for the Tigers making the playoffs. Winning the championship is a different story.
Best of the Weekend
: A look at the best games and pitching matchups of the weekend.
Friday, Los Angeles at Philadephia, Kershaw vs Fausto Carmona Roberto Hernandez
: This is a game to pay attention to because Kershaw hasn't looked good in his last two starts. He got blasted by Arizona in his last start and gave up a 0-2 home run off his curveball in his start before that. Let's see how well he does against Philly.
Saturday, Washington at Pittsburgh, Strasburg vs Cole
: Ah nothing like a young pitching duel to cleanse the pallet. Expect a lot of strikeouts in this game. Both guys average at least 8 strikeouts per 9 innings.
Sunday, St. Louis at Cincinnati, Wainwright vs Leake
: Wainwright's ground ball rate is down but he's leaving more people on base than his career average. His xFIP is also up which makes me wonder if his overall pitching is starting to regress or is it still too early to judge?
Monday, Detroit at Oakland, Scherzer vs Milone
: The thorn in the sides of the Oakland A's. Scherzer though unlike Verlander hasn't owned the A's.