49er16
: Weekends like this make me miss baseball a lot. We're in a drought and it's 75 degrees outside. I'm sorry but I should be able to listen to baseball games with weather like that. GIVE ME MY BASEBALL BACK!
The Colonel
: This time of the year is brutal until the NCAA tournament starts. NBA and NHL are still in the middle of their seasons and we're just waiting for college basketball to finish up. You're like me and couldn't give a crap about the Olympics.
49er16
: I try to care about the Olympics, but man I just can't get into them. Even Olympic hockey leaves me feeling "meh". I like the Summer Olympics and those events, but man the Winter Olympics, sorry for the pun, leave me feeling cold. Even the curling is only exciting for about 5 minutes to me.
The Colonel
: But the pretty MILF Canadian curlers! I'm with you there. Even curling is exciting for about two minutes and then you realize they're just playing shuffle board on ice. And I've just never liked hockey, so that event doesn't interest me. I will check out the Olympic ski jumping though and the downhill skiing events.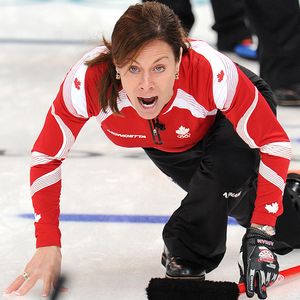 49er16
: I love how Lolo Jones made the bobsled team and the girl that was left off the team complained about NBC having influence over that decision. And you know what? I totally believe her. With Lindsey Vonn hurt, there aren't many stars at this Olympics. It wouldn't surprise me at all if NBC influenced that decision.
The Colonel
: I'm going to laugh and laugh if Jones doesn't medal again like the past two Summer Olympics. And can you imagine the backlash if that team doesn't medal at Jones? The media is going to have their knives and forks out for her. It's going to be spectacular.
49er16
: I'm really not looking forward to these Olympics. The stories about that nearby war and those anti-gay laws in Russia are going to completely dominate everything. Not looking forward to all of those.
The Colonel
: Did you watch the Pro Bowl? I watched about two minutes, saw two teammates tackle each other, and switched channels. I'm glad to see those guys actually try again, but man that event just needs to go away. Do a skills competition. People will still watch.
49er16
: Have a weight lifting competition for the lineman. A 40-yard dash for the fast players. A passing competition for the quarterbacks. The event doesn't last more than two hours. No one gets hurt. Everyone tries. Viewers at home are happy. What's not to like about that?
The Colonel
: Yep. You can still have announcers and sideline reporters asking their half hearted questions. Everyone wins.
49er16
: I'm not looking forward to more stories on Richard Sherman and the Super Bowl weather this upcoming week. I might have to avoid ESPN and national radio for the next two weeks.
The Colonel
: BREAKING NEWS: It's going to be cold in New York City.
49er16
: You have anything else to add to this conversation?
The Colonel
: Nope
49er16
: Have a good week, folks.