I have no idea what to make about this week's slate of games. While there are a few intriguing games they're mostly dull and bland. Texas-Kansas State is the Musburger-Herbie game of the week. I believe that's all what you need to know about this week's slate of games.
(Schedule via
506sports
)
Thursday, September 19th
Clemson at NC State, 7:30 (ESPN: Rece Davis, Jesse Palmer, David Pollack, Samantha Ponder
) I agree with Kirk Herstreit. If Clemson wants to pretend they're a contender then they need to win these type of games against NC State. Like Herbstreit though I keep waiting for them to lose. And wouldn't a game against NC State be the perfect NC State loss? It's on ESPN. A night game. Away game. It's the perfect recipe for an inexplicable Clemson loss.
Friday, September 20th
Boise State at Fresno State, 9 (ESPN: Carter Blackburn, Danny Kanell, Allison Williams
) It's suppose to be 91 degrees in Fresno on Friday. Enjoy your trip Boise! The Broncos should also worry about the fact that Fresno State is actually pretty good with a really good QB in Derek Carr. Now watch Boise State win by 21 points............
Sunday, September 21st
North Carolina at Georgia Tech, Noon (ESPN: Dave Pasch, Brian Griese, Tom Luginbill
) Woof the morning games are horrible highlighted by this disaster.
Utah State at USC, 3:30 (ABC or ESPN2: Dave Flemming, David Diaz-Infante, Shelley Smith
) I'm happy to see my man Dave Flemming calling this game. Maybe one day he'll replace that hack Mike Patrick. For right now though Flemming gets to witness the hapless USC team face a high powered Chuckie Keeton lead Utah State game. I would be more confident in Utah State if USC's defense wasn't as good.
West Virginia vs. Maryland, 3:30 (ESPNU: Anish Shroff, Kelly Stouffer
) HAHAHA I'm not previewing this mess of a game. I just wanted to give Kris the blue balls. See I'm like a stripper. I'll leave you broke, wet, and hard.
Michigan State at Notre Dame, 3:30 (NBC: Dan Hicks, Mike Mayock, Alex Flanagan
) Michigan State's offense is even worse than normal. They have about 10 different QB's taking snaps for them. And here's the thing, Notre Dame isn't much better offensively and honestly their defense is very weak this season. So who doesn't love 10-7 games????
Tennessee at Florida, 3:30 (CBS: Verne Lundquist, Gary Danielson, Tracy Wolfson
) From Bama-A&M to Tennessee-Florida. Who says every game in the SEC is a must watch? I wouldn't watch this game if I was paid. I'm sure though this won't stop Danielson from sucking the tit of the SEC and proclaiming that both of these teams would beat any team outside of the SEC.
SMU at Texas A&M, 7:00 (ESPNU: Clay Matvick, Matt Stinchcomb, Dawn Davenport
) I couldn't believe my eyes when I looked up
SMU's stats
. Garrett Gilbert is still hanging around trying to be a quarterback when his quarterback career ended in the Rose Bowl against Bama. I'll give the kid credit for sticking around as long as he has. That is impressive.
Auburn at LSU, 7:45 (ESPN: Brad Nessler, Todd Blackledge, Holly Rowe
) LSU is actually a balanced team? Seems crazy but it looks like LSU finally found a quarterback who can at least complete a pass or two in Zach Mettenberger with two good running backs. Auburn has at least won a SEC game again, they were shut out last season, but they won't be good enough to beat LSU in Death Valley at night.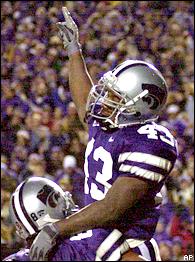 Kansas State at Texas, 8:00 (ABC: Brent Musburger, Kirk Herbstreit, Heather Cox
) I respect ESPN's fascination with train wrecks. They're going to cover them until you're absolutely sick of the coverage. I bring this up because Texas football is a train wreck right now. They're horrible and Mack Brown's seat isn't just hot, but it's on fire. So of course ESPN would send their A crew to Austin for an 8 PM ET game. Gotta milk those train wrecks as long as possible.
Utah at BYU, 10:15 (ESPN2: Mark Jones, Brock Huard, Lewis Johnson
) Aww yeah the Holy War. The only game played between two rivals without alcohol. Only the sweet taste of water pours in Provo. And remember BYU fans, make sure to tell Utes fans that Miami is the real "U". See what kind of reaction you get.
Recipe of the Week, Tex-Mex Burger with Cajun Majo
: This recipe might be one of those with too many ingredients. You have Tex-Mex style with jalapeno mixed with cajun seasonings. I'm going to give it a try because I'm a sucker for new recipes but still I feel like there are too many ingredients in this recipe.
Alcoholic Beverage of the Week, Pumpkick
: I've always been a fan of seasonal beers especially the pumpkin flavored beers. This week's beer comes courtesy of Fat Tire called Pumpkick. This beer has the traditional fall ingredients: Pumpkin, cinnamon, nutmeg, and cranberries. This beer will either be the greatest thing ever or the grossest.