49er16
: So apparently a defensive back can drape himself all over a receiver and nothing will be called as long as it's in the final minutes of the game?
The Colonel
: Apparently so. What a dreadful non-call. That Ravens defensive back stopped shot of stabbing Crabtree and hiding in his limo. (Sorry I had to)
49er16
: The entire 4 plays were a disaster. Not exactly Harbaugh's greatest moment. One run, and it was to James, and then three passes including the third down which wasn't thrown into the end zone. And will someone throw away those fade routes to the corner of the end zones. Those plays only work with the Calvin Johnson's and Larry Fitzgerald's of the world.
The Colonel
: A lot of questions that last 4 plays. Where was Gore? Why didn't Kaepernick run? Where was Vernon Davis who had a huge game? Why didn't Harbaugh use his final timeout before the final play? Also where does this game rank on the bitter scale?
49er16
: It still ranks below the 2002 Western Conference Finals and a bunch of Giants losses in the playoffs. Yes the Giants have won two championships the past three years but still a few of those losses were bitter.
The Colonel
: Losing to the fucking Marlins twice still gets to me, especially in 1997 when the Giants had the better record but had to play the first two games in Miami. The 2000 loss to the Mets was also painful. Literally Shawn Estes hurt himself sliding into 2nd base. And don't even bring up the 2002 World Series.
49er16
: What did I say about the lack of pass rush and our secondary? Also these past few games has me worried about Aldon Smith. I'm afraid he's more of a byproduct of Justin Smith than his own talent.
The Colonel
: We'll need more time to figure this out, but right now Aldon doesn't look good without Justin's support. He disappeared since Justin got hurt and it exposed the secondary badly. You were spot on in saying Flacco would tear apart the secondary deep.
49er16
: That was more predictable than the sun coming up. The Niners need to address that secondary in the draft or through free agency. Chris "Gay Basher" Culliver isn't good. Carlos Rodgers was a mirage and Whitner was never that good. Goldson and Brown are keepers but they need help. Credit to Flacco though. I've always doubted him but he played the game of his life last night. Very impressive.
The Colonel
: I thought for sure Flacco would throw one pick. Never happened. I thought that the best game he's ever played.
49er16
: I thought so to, but instead he picked apart the defense while Ray Rice was pretty much ineffective. And speaking of ineffective, Ray "Billy Graham" Lewis was a complete non-factor. I'm glad he's gone. I always liked Lewis but his "preaching" pretty much became unbearable there at the end. He reminded me of that snake handling preacher from this season's "Justified".
The Colonel
: That would have been awesome if Boyd Crowder brought Lewis a rattlesnake that wasn't milked to be handled during the postgame ceremony.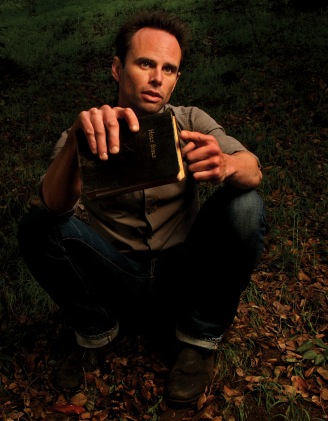 49er16
: Then the snake bites Lewis and he dies on stage in front of a crying Suggs.
The Colonel
: Did you watch any of the commercials? I can't remember any of them.
49er16
: The commercials is when I got up and went to the bathroom and grabbed another beverage, so no I can't say I watched any of the commercials.
The Colonel
: How about that Beyonce? It was nice seeing a performer during halftime who isn't old enough to be my grandparent.
49er16
: Or who isn't the Black Eye Peas.
The Colonel
: Oh God they were terrible. The Who was bad. I don't care much for Bruce Springsteen so I hated his performance.
49er16
: I was hoping for a wardrobe malfunction with Beyonce. Once again the Niners were screwed.
The Colonel
: If that happened, the entire power to that stadium would have went out.