49er16
: With pitchers and catchers reporting next week and spring training games basically two weeks away, it was time for the Colonel and I to report back to duty ourselves and talk some baseball.
The Colonel
: It feels great to be back. The Northeast is being pounded by snow but it's sunny and clear in Florida and Arizona. What should we talk about first? How about some recent news with Felix Hernandez signing a contract with Seattle.
49er16
: I said this on Twitter, but this signing still won't stop sniveling New York writers from writing their annual "How the Yankees Can Get King Felix" columns. Which by the way is starting to climb up the ranks of my favorite annual events along with Christmas and Thanksgiving.
The Colonel
: "The Yankees can trade ARod back to the Mariners for King Felix! The Mariners don't say no to that!"- NY Daily News Writer
49er16
: "The are the New York Yankees. Seattle should just give King Felix to New York and be thankful the Yankees gave them the time of the day!"- NY Post writer
The Colonel
: My other favorite story line from the year is Arizona trading Justin Upton and then holding a press conference where Kirk Gibson basically said, "Justin Upton isn't gritty enough for me". Because a team full of David Eckstein's would be verrrrrry successful. I hope they finish dead last in the NL West.
49er16
: Martin Prado is good player they got in return, but come on. Upton is a young stud who had an off year last season. And he's still under team control for a few more years. But nope he's not gritty enough for a manager who probably won't even be managing in Arizona in a few years.
The Colonel
: Funny thing is Gibson was also once a hyped prospect who never quite lived up to his billing. Of course Sparky Anderson thought every player was the next Mickey Mantle and Sandy Koufax.
49er16
: My other favorite story line heading into the season is the Dodgers already setting up Don Mattingly as the fall guy if that team doesn't live up to their payroll expectations. "Oh you want a contract Don? Don't fuck up this year because we're already looking for a bus to throw you under!"
The Colonel
: I would say Mattingly deserves a contract extension, but in reality I just want him to stick around because he isn't a very good manager. For crying out loud he walked Angel Pagan to face Marco Scutaro last year when Scutaro was the hottest hitter on the planet. And of course Scutaro knocked in the game winning hit. I hope Mattingly stays with the Dodgers forever.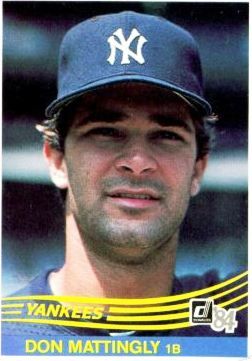 49er16
: That is true, Mattingly is a horrible manager. Still though how long does it take for him to be fired if the Dodgers struggle?
The Colonel
: I think the first losing streak they have and he's gone. They've completely set him up to fail by not extending his contract.
49er16
: I love how the Pirates signed Jonathon Sanchez. I'm sure he'll do enough to convince the Pirates to give him a spot on their roster and then turn into crap during the season. But not before striking out 10 batters.
The Colonel
: Sanchez is by far and away the most frustrating player I've ever watched. He's the only guy who could have a stat line that read like this: 6IP, 8 K, 6 BB, 7 H, 6 R, 6 ER. He's the reason why Bochy's facial hair turned white so fast.
49er16
: Oh and what glorious facial hair he has.
The Colonel
: I loved that Heyman tweet the other day about the Astros completely bottoming out as an "unfair advantage" for the rest of the American League. OH NO! THE AL WEST MIGHT GET THREE TEAMS INTO THE PLAYOFFS INSTEAD OF THE YANKEES AND RED SOX!
49er16
: I loved Wendy Thurm's response, "The unbalanced schedule is what is unfair". And she's right! I thought the Astros going to the American League was suppose to make the schedule more balanced? Nope, it's actually even more unbalanced than it was before. I hate the schedule makers in baseball.
The Colonel
: Hey man when you can schedule 40 Red Sox-Yankees games, all of them will appear on either ESPN, MLB Network, TBS, or Fox, you have to do it. The world demands more 5 hour Red Sox-Yankee games.
49er16
: But I didn't demand 20 Giants-Padres games. No one wants to watch the Padres for more than 15 games a year.
The Colonel
: Notice how we didn't mention PED's? I think we should slap ourselves on the back and consider this a successful post.