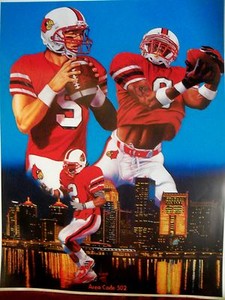 Some pretty good games this week. We have a rivalry game, a division game that could swing the SEC, non-conference opponents facing off in primetime, and an exciting offense game in the plains. If there was a more compelling morning game then this would be the perfect college football Saturday. Here's the must list.
October, 26th
Cincinnati at Louisville, 8:00 (ESPN2: Carter Blackburn, Rod Gilmore, Jemele Hill
) The Big East actually has three teams who are either undefeated or only have one loss. Cincinnati would be undefeated before this week's game against Louisville if they didn't lose to Toledo*. I'll say this about the Big East, when that conference has two or three good teams college football is better. While a Big East team will never win a national championship, we need the Big East to have games like this on the weekdays especially now since hockey is locked out.
*Really not that big of deal since Toledo beats a BCS team every year. See: Michigan & Colorado
October, 27th
Tennessee at South Carolina, Noon (ESPN: Dave Pasch, Brian Griese, Jenn Brown
) Sadly the morning games on Saturday are pathetic with this game being the "best" game. The only reason why I'm remotely interested in this game is to see a pissed off Spurrier (South Carolina was crushed last week in the Swamp) take Citrus Bowl University to the woodshed.
Texas Tech at Kansas State, 3:30 (Fox: Gus Johnson, Charles Davis, Julie Alexandria
) It's nice to see Tuberville didn't turn Texas Tech into a three-yards and a cloud of dust team like he did with Auburn. Because of this we should have a fun offensive game between the Red Raiders and Kansas State. Also I want to see Tuberville get Snyder'd like Holgo did last week. I can't get over how fun KState is to watch.
Florida vs. Georgia, 3:30 (CBS: Verne Lundquist, Gary Danielson, Tracy Wolfson
) I guess I have to start buying into Florida. I've called them frauds all year and they have proven me wrong with the number 2 ranking in the country. I would like to believe Georgia has a shot in this game, but this is exactly the type of game Mark Richt loses. Sigh, you have my respect Florida.
TCU at Oklahoma State, 3:30 (FSN: Joel Meyers, Brian Baldinger, Jim Knox
) A game to keep an eye on just to see the offenses. Also do you think TCU knew what they were getting into when they joined the Big 12 in terms of offense? Gary Patterson has always had solid defenses but in the Mountain West you had some very bad offenses. There are almost no bad offenses in the Big 12. The grass ain't always greener for the defense in moving to the Big 12*.
*Ditto for West Virginia and their defense
.
Notre Dame at Oklahoma, 8:00 (ABC: Brent Musburger, Kirk Herbstreit, Heather Cox
) Notre Dame is another team I want to believe is a fraud but their defense is pretty freaking good. Same for Oklahoma's offense. These are the type of games I can't tell what direction the game will go in because one team has a good defense and one team has a good offense. My gut is saying Notre Dame wins, my head is saying Oklahoma wins because they're at home.
Michigan at Nebraska, 8:00 (ESPN2: Mark Jones, Brock Huard, Jessica Mendoza
) Wasn't Bo Pelini suppose to be a defensive genius? Then why are his teams giving up 60 points to Ohio State?!? I'm going to keep an eye on this game just to see if Denard Robinson runs rough shot over that defense.
Mississippi State at Alabama, 8:30 (ESPN: Brad Nessler, Todd Blackledge, Holly Rowe
) I've admitted over the weeks that I haven't been watching college football this year like I have in the past. So when I was looking at this week's slate of games and I saw that Miss State was undefeated I was shocked. Miss State? Then I looked at
their schedule
and who've they played so far and it all made sense then. I would like to believe Miss State keeps this game close, but I have a feeling they're going to get crushed even if this game was in Starkville.
Alcoholic Beverage of the Week, Crown Royal
: The weather finally popped this week in Northern California*. And when the weather pops I bring out my favorite whiskey. I've talked about the joys of Crown Royal in the past so I'll say it again, Crown Royal in my opinion is the best whiskey you can drink. I prefer to mix Crown with either Coke or Pepsi to make a High Ball. You can drink it either way you want, just know that it's the best.
*You would already know this if you watched the end of the Giants-Cardinals game on Monday night
.
Recipes of the Week, Bacon Cheeseburger Meatloaf
: I had a craving for meatloaf the other day so I tried this recipe out and loved it. Since bacon is about to have a shortage I want bacon with all my meals. Cook this meal well though. The recipe calls for 45 minutes in the oven, I would go with 50 minutes.