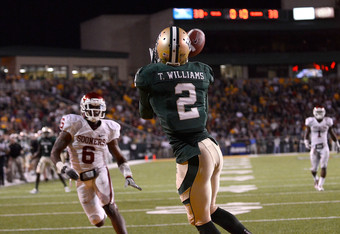 Finally, finally we've gotten a group of games which makes me want to watch college football. We even have two(!) Thursday night games that should be spectacular. The games this week also could provide quite a BCS mess if Oregon wins and Alabama wins. And what would the last year of the BCS be without a mess of undefeated teams ranked at the end of the season? So here are the games for this week.
Thursday, November 7th
Oklahoma at Baylor, 7:30 (FoxSports1: Justin Kutcher, Joel Klatt, Kristina Pink
) Oklahoma already ruined Texas Tech's season and could they ruin Baylor's season next? It wouldn't surprise me if this happened because Oklahoma sucks. Seriously they should have put Mack Brown in his grave and they lost but watch them ruin Baylor's season by playing well and winning. Part of me doesn't even want to watch this game because Oklahoma is going to win*.
*God I hope this reverse jinx works
.
Oregon at Stanford, 9:00 (ESPN: Rece Davis, David Pollack, Jesse Palmer, Sam Ponder
) While this game should be great, I don't expect a shootout at all. Stanford's defense is too good for a shootout and their offense is just good enough to keep up with Oregon's offense. What will be interesting if Oregon wins is where they end up in the BCS polls? Will a victory over a one-loss Stanford team be enough to keep them in the BCS second hole? I find this scenario more interesting than the actual game.
Saturday, November 9th
Penn State at Minnesota, Noon (ESPN2: Beth Mowins, Joey Galloway, Paul Carcaterra
) How these programs win is beyond me. Minnesota is 7-2 on the year despite having a coach missing time because of seizures. Penn State is winning despite everything that has happened to them the past two years. It's beyond impressive that these teams have won as much as they have despite everything facing them.
BYU at Wisconsin, 3:30 (ABC or ESPN: Bob Wischusen, Rod Gilmore, Quint Kessenich
) Wisconsin's defense hardly gives up any points. BYU's offense has been averaging 30 points a game since their loss to Utah. So what happens in this game? My guess is that Wisconsin's defense will be too good for BYU in this game and add the to the fact that BYU is playing on the road and this game will most likely be a blowout.
Mississippi State at Texas A&M, 3:30 (CBS: Tim Brando, Aaron Taylor, Kristina Akra
) Let's see how many puns we can come up with that Brando might potentially use in this game:
- The Aggies are farming for more scores
- Sumlin likes the summary of this game
- Orange the Aggie fans happy to see Manziel
- HANG ON DAK! (Star Wars reference for the Miss State running back)
- LaDarius Perkins really slashed his way through the line of scrimmage (Psycho reference)
- The Pope has redeemed A&M (A&M has a WR with the last name of Pope)
Okay so I'm not good at this game.
Houston at UCF, 7:00 (ESPN2: Mark Jones, Brock Huard
) Sneaky good game to watch here to prepare for the main event. Both UCF and Houston are undefeated in conference play and both teams only have 1 loss on the season. And both teams are great offensively to watch.
Virginia Tech at Miami, 7:00 (ESPN:
) Virginia Tech has hit the John Navarre Zone with their QB Logan Thomas. The
John Navarre Zone
is when a team has a QB who puts up fantastic numbers but he's really not that good but they can't bench him because they don't have other options. Michigan fans couldn't wait until John Navarre left school and I'm pretty sure Virginia Tech fans have reached the same point with Logan Thomas.
Notre Dame at Pitt, 8:00 (ABC: Brent Musburger, Kirk Herbstreit, Heather Cox
) ESPN must have looked at the schedule for this season, seen they don't have the LSU-Alabama game and seen that game was in primetime, and decided to counter with Notre Dame-Pitt. Fans of these two teams aren't even going to waste their time watching this game. Musburger and Herbstreit will barely pay attention to what's happening in Pittsburgh. ESPN should have just made everyone happy and reran a 30 for 30 in this spot.
LSU at Alabama, 8:00 (CBS: Verne Lundquist, Gary Danielson, Tracy Wolfson
) I love how a report about
Nick Saban's agent talking to Texas
the week of the LSU game leaked. And would it really surprise anyone if Saban ditched Alabama for Texas? This is the same guy who denied going to Alabama while he coached the Hazers err Dolphins.
The game itself was hurt by LSU losing to Ole Miss a few weeks ago and posts on LSU QB Zach Mettenberger regressing hurts the luster of this game. Still though this game should at least be intense with a great atmosphere. Out of all the undefeated teams I'm the most confident Alabama will win this weekend. LSU is too running back reliant and Alabama's offense is actually really good. Alabama 35 LSU 17
Recipe of the Week, Slow Cooked French Dip
: The French Dip is the most underrated sandwich in the universe. Roast Beef toasted and then dipped in a salty water that is delicious. Now take that roast beef and throw it into a slow cooker and you have one hell of a meal.
Alcoholic Beverage of the Week,
Night Owl Pumpkin Ale
:
The Elysian Brewery
out of Washington is one of the best craft breweries in the nation. Their fall seasonal pumpkin ale is one of the better ale's I've tasted. It's not too strong and you taste almost all pumpkin while sipping on it.