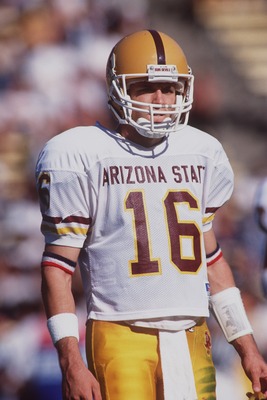 Not the greatest slate of games because many teams have bye's this week to prepare for the final three games. Still though we have some rivalry games, a possible Tessitore upset alert, and a chance to watch a team you'd normally not watch despite their chance to play in a BCS game. Let's get to the games.
Thursday, October 31st
Arizona State at Washington State, 10:30 (ESPN: Rece Davis, David Pollack, Jesse Palmer, Sam Ponder
) Lots and lots of points are expected in this game. If we don't get over 80 points I'll be disappointed. One last note, this game will be played on Halloween so I fully expect Mike Leach to dress like a Pirate for this game. Come on Mike, you know you want to dress like a Pirate on the sidelines for this game.
Saturday, November 2nd
Wisconsin at Iowa, Noon (ABC/ESPN2: Sean McDonough, Chris Spielman, Shannon Spake
) I hate to admit this but Iowa has actually been kinda fun to watch this season. They're not a great team but they keep games close, even their game against Ohio State. Wisconsin would only have 1 loss on the season if it wasn't for Pac-12 refs. Now I don't expect this game to be pretty, but I do expect it to be tight throughout*.
*Oh this game is going to be so boring but the choices in the morning aren't very inspiring
.
Georgia vs Florida, 3:30 (CBS: Verne Lundquist, Gary Danielson, Tracy Wolfson
) I'm mentioning this game based on their history as rivals more than for the actual game itself. The game itself will be very bland. Florida doesn't have an offense. Georgia is the walking wounded. This game is going to be bad. Very bad, but the fans will be drunk enough not to remember this game.
Michigan at Michigan State, 3:30 (ABC: Brad Nessler, Todd Blackledge, Holly Rowe
) Remember when I was making fun of Michigan State earlier this season because they had four quarterbacks but no starter? Well they found a starter in Connor Cook and are (gasp) actually fun to watch. It's actually a litte bizarre watching Michigan State put up 50 points on teams. Like we've stepped into the twilight zone of college football. Michigan can score with anyone with the example being they dropped 60 points on Indiana. The problem is they give up as many points. Could this game be a shootout? And if it is does that mean the world is going to end?
Auburn at Arkansas, 6:00 (ESPN2: Joe Tessitore, Matt Millen, Maria Taylor
) I bring this game up for one reason, Joe Tessitore is on the call. Tessitore is known for calling upsets, he called the South Carolina-Missouri game along with Penn State-Michigan this year alone, so I fully expect an upset in this game.*
*Watch this game turn into a Auburn blowout because Arkansas is terrible
.
Oklahoma State at Texas Tech, 7:00 (Fox: Gus Johnson, Charles Davis, Kristina Pink
) Oklahoma had to ruin everything and stopped Texas Tech from running the table. Now the Red Raiders will have to settle for a possible shootout against Okie State.
Miami at Florida State, 8:00 (ABC: Brent Musburger, Kirk Herbstreit, Heather Cox
) When was the last time these two teams were actually good at the same time? 2002? It's been a long time since Florida State and Miami have played a meaningful game. Three things are going against Miami in this game. First the game is at Florida State. Second, Miami has barely snuck away with victories against Wake Forest and UNC in recent weeks. And third the Florida State offense looks unstoppable right now. They cut through Clemson like nothing just two weeks ago. I just don't see how Miami's defense will be able to stop Florida State to keep this game close and I just don't see Miami's offense staying close with the Seminoles.
Nevada at Fresno State, 10:30 (ESPNU: Joe Davis, David Diaz-Infante
) This is as good a chance as ever to watch Derek Carr and Fresno State who is undefeated. It would be only fitting to end the BCS era with a non-BCS conference to go undefeated and sweat out the selection process to see if they end up in a BCS game. Fresno State's canceled game with Colorado might hurt them in the long run.
Recipe of the Week, Toasted Pumpkin Seeds
: I'm not a fan of pumpkin seeds. They're hard to crack and they don't taste that good. Give me sunflower seeds any day of the week over pumpkin seeds. That being said I know people who do love pumpkin seeds and this is an excellent recipe.
Alcoholic Beverage of the Week, Pumpkin Patch Ale
: Rogue brewery has made some interesting beers that have appeared in stores around Sacramento. Their ale's are a delight. Their seasonal beers can be unusual but nonetheless great. Their Pumpkin Patch Ale is no different. It's a little too strong for me but the tastes of pumpkin and cinnamon keep me coming back to this beer.