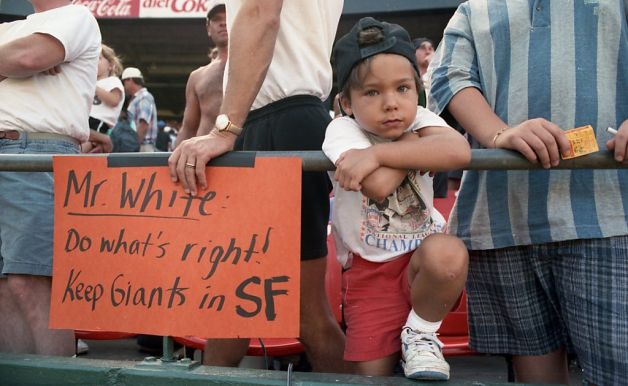 49er16
: There's no other way to say this so I'll just come out and say it, the Giants are playing like assholes right now. I can't believe how bad that defense has been. Turning bloop hits into doubles, flat out missing pop fly's, letting the ball go between their legs, etc. It's fucking ugly right now watching them.
The Colonel
: The pitching hasn't been stellar either. Cain has been bad. Stats nerds can finally celebrate Vogelsong's regression. Zito is gonna Zito. Lincecum gonna Lincecum. Bumgarner right now is the only one pitching well. And yeah that defense right now is horrendous.
49er16
: And we haven't even talked about the offense right now. Their only good hitter all season so far has been Brandon Crawford. They leave too many men on base, they can't run the bases, and Scutaro is the player everyone said he would be when he re-signed with the Giants. Ugh.
The Colonel
: And I don't know about Brandon Belt anymore. Everyone has wanted to watch this guy play well and it's never really happened yet. I know first base can be a danger zone for players and most of them never really become anything special, I just don't want it to happen to Belt. I'm not going to give up hope right now, but we need something more there.
49er16
: I would talk more about the Giants, but I don't want to get drunk right now.
The Colonel
: Here's something we need to address and that's how the league schedule games. The Orioles began a west coast swing in Oakland then they travel to Seattle for week games and then finish the trip next weekend in Anaheim. Detroit went on the same road trip a few weeks ago. Why does MLB schedule games like that? I know both the NHL and NBA can have weird scheduling as well, but you would think they would make the road trips a little more easier on teams. The Orioles should have started in Seattle or Anaheim with the A's being the middle trip. I just dunno.
49er16
: I love it in the NBA when they have like the Kings start a road trip in Chicago, then they go to Boston, back to Milwaukee, down to Atlanta, and then finish the trip in Phoenix. I know they schedule these seasons in a big computer that spits out the schedules. They also have to take in fact if there's a concert of another event in the stadium or arena. I also wish the schedules made a little more sense but I'm sure there's factors that go into each of them.
The Colonel
: I wished they spread out games as well. Cincinnati and Washington are done playing each other for the year. They should have spread out those series' a little more.
49er16
: How about them Toronto Blue Jays? Traded for all of those players only to end up in last place with a run differential of -34. Wow they are a disaster right now. They can't pitch or hit right now. Reyes has their highest WAR for a position player and he hasn't played in a couple of weeks. Unbelievable.
The Colonel
: It's nice seeing Melky Cabrera crash back down to Earth. Also their pitchers have been a disaster this year.
49er16
: Is this the year we finally talk about the AL Central? The new and improved Indians have been a disaster but how about them Royals? Hell even the Twins have a winning record despite being one of the worst hitting teams in the league.
The Colonel
: I still believe the Tigers will turn it on late like usual and win that division. The Royals worry me because they can't score runs but can pitch. Reminds me of the 2009 Giants. Other than those two teams though that division looks like a wreck. The White Sox are starting Conor Gillaspie and Tyler Green in their infield right now. The Indians can't pitch. And the Twins have numerous weaknesses.
49er16
: The Angels are still a wreck as well. They only have two more victories than the Astros and just lost three out of four to the Mariners. While it's easy to blame that pitching staff for being terrible, Josh Hamilton has been downright dreadful with Pujols not playing much better. I wonder if Moreno regrets throwing so much money at both of those guys?
The Colonel
: Signing Hamilton was always going to be risky because of his swing habits. Age doesn't sit well with free swingers like Hamilton and Pujols just isn't as patient at the plate like he used to be.
49er16
: How about them Pirates? They went to St. Louis and took two out of three. If it wasn't for
Jonathan Sanchez
they probably could have went to St. Louis and swept the Cardinals.
The Colonel
: Don't get your hopes up buddy.
49er16
: :(