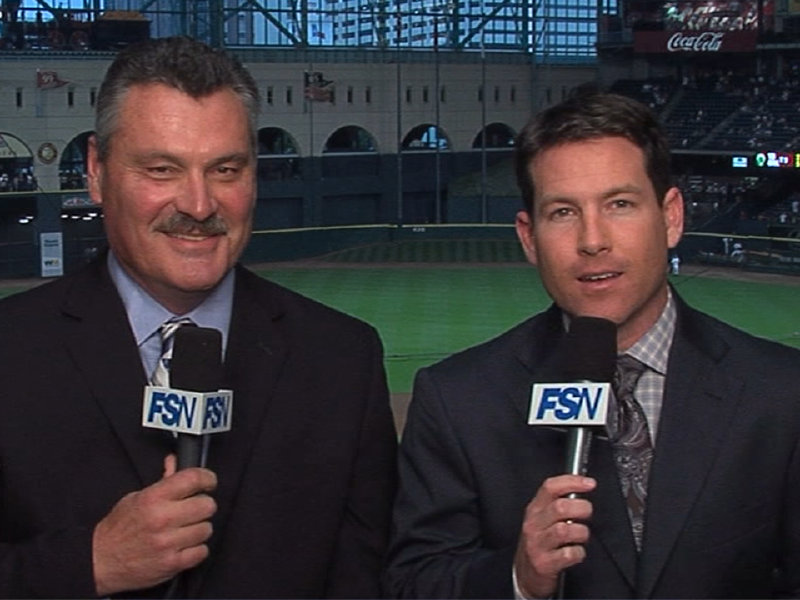 Continuing the Baseball Broadcasters Impressions project today with a look at the Milwaukee Brewers broadcasting teams.
TV Broadcasters
: Brian Anderson, Bill Schroeder
I've heard good things about Anderson, but honestly I don't see it. I've heard him call national baseball and college basketball games. Now I've listened to him call Brewers games. I just don't get why he's looked at very favorably.
Don't misunderstand what I'm saying, Anderson is a very good broadcaster. When broadcasting a national game he doesn't get too high or low with the teams. With the Brewers he's a very even broadcaster. That's all you can really say about Anderson though. He's a fair broadcaster. But does that make him a good or even great announcer deserving of praise?
Depends on what you're looking for in an announcer. I can handle homers if they're not condescending. What I'm looking for is to be entertained. And I'm sorry but Anderson isn't very entertaining. He's in fact very dull, especially on the national broadcasts.
Bill Schroeder is a fine analyst. When he worked a Brewers-Giants game on Fox with Dave Flemming I thought he did a good job. Schroeder isn't going to bang you over the head with expert analysis or advance stats, but he does a good enough job breaking down the game.
Overall this a solid pairing, but they're really nothing special. They're fine broadcasters but they're not going to dazzle you.
Radio Broadcasters
: Bob Uecker, Joe Block
Uecker at this point is in Vin Scully-mode. He's going to miss a play or name here and there, but you're not going to complain and actually admit you're entertained.
Uecker to my surprise isn't in Harry Doyle mode during the broadcast. Uecker calls the game very professionally and will entertain the audience with an old or funny story. Like Scully, Uecker can dominate a broadcast to the point that it might be a little distracting.
Joe Block, Uecker's partner, is hoping to follow in the steps of Pat Hughes, Jim Powell, and Cory Povus in parlaying being 2nd banana to Uecker into a job as the lead broadcaster with another team. Block though needs a few more years of seasoning. He's nowhere near Hughes, Powell, or Provus at this point. Block is very dry and at the beginning of the year sounded nervous while calling the middle innings.