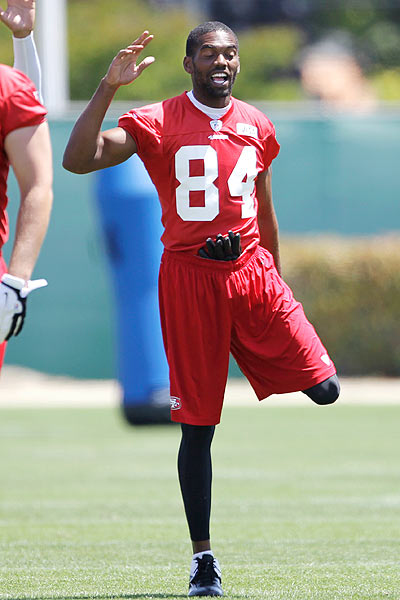 Like with my
MLB predictions
this year, I'm going to have a little fun with the NFL predictions. I'm going to have fun with these predictions instead of the standard "Team X will will NFC South" and "Aaron Rodgers will win the MVP". So sit back and enjoy my predictions.
(
Note
: I realize it's a little early to make predictions, most teams haven't even played their 2nd preseason game yet, but I was bored and these predictions can be updated.)
The 49ers Will Struggle and It Will Be Because Of Alex Smith
: It's convenient to forget this, but Jim Harbaugh sought after Peyton Manning this past off-season. Think about that for a second. He had a QB who lead them to the NFC Championship Game and he still went after the guy who hasn't played in over a year because of a freaking neck injury. The 49ers have improved their depth at receiver and running back this year but that doesn't mean a thing. Alex Smith is still the QB who either overthrows or underthrows a ten yard pass. Smith will come back to Earth this season like he did in the championship game. Just wait.
49ers Fans Though Will Still Say Alex Smith Is A Great QB
: Alex Smith has been with the 49ers so long (He was drafted by the 49ers when I was a junior in high school. That was 8 long years ago) that I firmly believe 49ers fans suffer from Stockholm Syndrome. How else can you explain 49er fans constantly defending Smith? You can't because he's been around so long they suffer from Stockholm Syndrome.
Randy Moss Will Eventually Explode
: Sorry but I have one more 49er prediction. You cannot tell me Moss doesn't throw a huge tantrum after Smith once again underthrows a pass to him. You just can't. And I'll tell you what happens after this. Moss will get cut and excuses will be made for Smith once again even though Moss will probably have every right to complain about another underthrown ball.
The Chargers Will Under-Perform Again
: The Chargers are actually getting older and haven't made a ton of roster changes lately. Plus Norv and AJ Smith are still around. Yet somehow the Chargers will once again have a good offense and defense and still not make the playoffs.
Buffalo Will Once Again Have a Promising Start And Then A Disastrous Ending
: The Buffalo Bills are like the Titanic. It looks beautiful sitting in a England harbor but then it hits an iceberg and then the ship be sinking.
Andy Reid Will Lose One Game For The Eagles By Himself
: I hate picking on a guy who just lost his son, but man do I wish there were Vegas prop bets for Reid. I would gamble everything in my savings on a "Reid will use all his timeouts before the last 5 minutes of the game and will need at least one timeout as the Eagles try to go the length of the field to kick the game-winning field goal and then run out of time and lose" prop bet. That would be like stealing.
Karma Will Bite The Broncos In The Ass
: I'm not a Tebow fan, but man I didn't like how he was constantly undermined by John HorseFace Elway the entire year and then dumped for Peyton "I hope no one hits me too hard because it could paralyze me" Manning. You just know something bad is going to happen in Denver this year because of the way they jettisoned Tebow. Karma will pay them back.
The AFC West Is Still A Flaming Mess
: The Broncos made the playoffs last year at 8-8. It wouldn't surprise me if someone from that division reaches the playoffs with a 9-7 record. I mean have you looked at the teams in this division? The Raiders still have Carson Palmer. The Chiefs still have Matt Cassel. The Chargers still have Norv. And the Broncos are relying on a QB who just sat out a year because his neck is screwed up. What a mess.
The Jets Will Continue To Be a Circus The Entire Year
: I didn't watch much Sportscenter during the Olympics and truthfully I don't watch much Sportscenter unless something big breaks. So I wasn't surprised to hear that Sportscenter basically turned into JetsCenter during the Olympics. This is just a preview of the year folks. This entire Jets team is a circus. And it isn't just Tebow. It's the whole team. From the media whores Woody Johnson and Rex Ryan, to whatever Bart Scott has to say this team will be a circus the entire year. Get used to it now.
There Will Be A Power Struggle Between Hue Jackson And Marvin Lewis
: If they didn't coach the Bengals I would go so far to predict that Jackson would backstab Lewis and then take over as the head coach. But since the Bengals are cheap, they'll never fire Lewis. That being said I still believe we'll hear stories sometime this year about how Lewis has "lost" the Bengals and should be replaced. And that insider info will come from none other than Hue Jackson. I watched Hue's act last year in Oakland after Al Davis died, he would stab his mother for power while drinking an Irish coffee.
Patriots Will Win The AFC East By Default
: You would think the Patriots are due for a letdown soon enough. They're an aging team, but then you look at the rest of the AFC East and the Patriots will basically win this division by default. As previously stated the Bills are like the Titanic and the Jets are a circus. That leaves the Dolphins who are basically just a wannabe New York Jets at this point.
The Cowboys Will Once Again Miss The Playoffs
: Talk about a circus, have you looked at the Cowboys roster lately? Their receivers either are declining in production or slapping around their mothers.
Jason Witten is hurt
. The Jets think these guys are a mess.
The Shanahan's Will Screw Up RG3
: Once upon a time I really liked Mike Shanahan. He was the last decent 49ers offensive coordinator so I thought the world of him. I wanted the 49ers to fire Mike Singletary and hire Mike Shanahan. Well three years later and I can say the 49ers dodged a bullet there because Mike didn't come alone to Washington. He brought his doofus kid Kyle along to call plays and Washington has been a disaster since. I feel sorry for RG3 just thinking about what's going to happen with him under the "tutelage" of Kyle Shanahan.