49er16
: After watching
this video
, who on the Giants could see going full on Tony Soprano feeding ducks in his bath robe and then immediately have a panic attack?
The Colonel:
Zito I believe is the logical choice. I could see him feeding ducks in his backyard wearing nothing but a robe after just finishing a plate of eggs and avocados. My 2nd choice is obviously Belt because he already has "bad body language".
49er16:
Damn you. I was going to say Belt because of the whole "body language" issue Bochy loves to bring up. Zito is another good choice. I could picture Zito feeding the ducks while Bumgarner is trying to shoot them.
The Colonel
: Then one of them would go to therapy and Bochy as the counselor would tell them, "toughen up pussies". You know he would.
49er16
: Bochy: "THIS IS A MAN'S GAME! DON'T SLUMP YOUR SHOULDERS WHEN YOU STRIKE OUT AROUND ME. I'LL KICK YOUR ASS FROM HERE TO TIJUANA. NOW SHUT THE FUCK UP ABOUT YOUR FEELINGS, DRINK A BEER, AND PLAY SOME BALL."
The Colonel
: Yeah he would make Jimmy Dugan look sympathetic in a therapy session. "WHAT'S THIS CRYING BULLSHIT? DO YOU THINK I CRIED WHEN I WAS CUT? NOPE. I JUST PUT MY HEAD UP AND ACCEPTED IT."
49er16
: I gotta say I like this new Dodgers ownership group. They're like young kids who just hit the jackpot and now they're going to spend their money at the strip club and they'll come home broke, hard, and wet.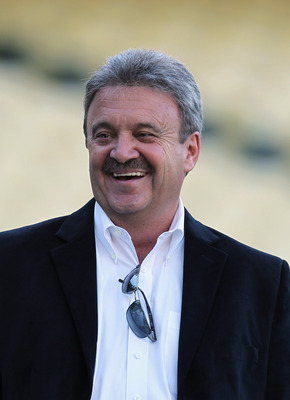 The Colonel:
Both them and the Angels wouldn't even make the playoffs if the season ended right now. The Dodgers worry me though in the future. Then again maybe the Dodgers will trade away their entire future for a short term run which is fine by me.
49er16
: Like trading Carlos Santana for Casey Blake?
The Colonel
: Yes. Or taking on massive contracts like Lee and Adrian Gonzalez when these guys are only getting older and not better. This is my dream.
49er16
: Well let's hope we can trust Agent Ned and he does exactly this.
The Colonel
: Knowing Agent Ned, you know in the coming years he's going to stack that team with veteran players. It's the only way he knows how. Sabean taught him well.
49er16
: Is it just a sheer coincidence the Yankees have faded a little since trading for Ichiro while the Mariners have been one of the hotter teams?
The Colonel
: Probably.
49er16
: Okay just checking. Looking at the standings, what team is interesting you right now?
The Colonel
: The AL Wild Card chase is fascinating me. The shit storm in the AL Central has forced the Tigers to be one of the Wild Cards with the A's being the other with the Orioles and Angels just one game out. I think Selig is going to get his wish and have a compelling chase for the last wild cards.
49er16
: I can see Montgomery Bud Burns rubbing his hands together mumbling, "It's all a part of the plan Muhahahahahahahaha".
The Colonel
: What else is interesting me is the race for the worst between the Astros and Rockies. And just these teams luck next year's draft is suppose to be pretty weak. I hope the Rockies end up with the first pick and Mark Appel is the only choice they have and he wants too much money.
49er16:
I hope the Astros get the first pick again and once again they refuse to pay Appel what Scott Boras wants. And then he falls in the draft again. The schadenfreude will be off the charts.
The Colonel
: Any time a Boras client doesn't get what he wants, an angel gets it's wings.
49er16
: Okay for some Olympic talk. Any event catch your eye yet?
The Colonel
: I've been fascinated with the water polo. And not just because there's hope of
seeing a very white breast
during a NBC replay. By the way, if I was a female water polo player I think I would demand to either wear a wet suit or one of those suits the female swimmers wear. Not only do the women water polo have to worry about their breasts being caught by a camera, but every time I see them come out of the pool they have a wedgie.
49er16
: Yeah I noticed that as well. And I agree. If I was a woman water polo player I would want to wear a wet suit. Imagine being that player who's breast showed up on a NBC replay? I bet she gets teased about it from her friends.
The Colonel
: "Hey I saw your boob on TV. Maybe we should go tanning. It was awfully white." Yeah very awkward.
49er16
: Have you been watching swimming or gymnastics?
The Colonel
: Nah. None of those events are for me. I'm more into the track & field. That's where I feel like the greatest Olympic athletes competes. No offense to the swimmers or gymnasts, but track & field will always be the must see.
49er16
: I actually agree. That's why I always cringe when someone says "Michael Phelps is the greatest Olympic athlete ever!" I appreciate Phelps and respect what he does, but Carl Lewis is the greatest Olympic athlete ever in my opinion.
The Colonel
: Yep.
49er16
: Well that's it for this week. Enjoy more boob coverage at the Olympics this week folks.